The South Carolina coast is blessed with an enormous amount of island of all sizes, shapes and character. The SC lowcountry area which is the area around Charleston and South to Beaufort and Hitlon Head Island is where you will find most of the small islands that dot the coast. The areas around Edisto Island and Northern Beaufort County have the most amount of islands and they can stretch from the beach areas on the Atlantic to some 30 miles Westward toward the mainland.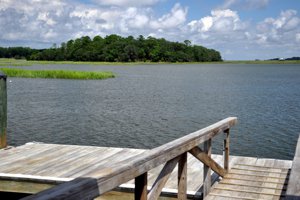 Ever since I helped filmed one of Discovery Network television shows on Destination America I have learned that owning a private island is more on the minds of folks eying the coast for recreation and retirement. The show I helped film was "Appalachian Islands" and can be seen on the series "Buying The Beach". My client's John and Amy were moving to the coast from the mountains of NC. So the name of the show is about their finding a private island that would give them the same sense of privacy and rustic environment that they had been used to. This 100 acre island in the photo below is for sale and is connected by causeway to a 400 acre deep water tract. Contact me for more information on this island for sale on the SC coast. 
Most of the islands that front along the beach have either been developed or are set aside as conservation property and are a natural resource for the public to enjoy. However, there are many islands near the beach that are accessible by boat and their access varies quite a bit. In addition to thousands of islands our coast also has thousands of marsh areas, creeks, and rivers. Some of the island s are on deep water rivers and can be accessed by private dock. This island in the photo below is connected to St Helena Island located near Beaufort SC and is accessible by causeway. The island has power and water. Contact me for more information.
There are few islands have causeways that connect the island to either another main island which is in turn connected to the mainland by a series of bridges and roads. But most of our islands are only accessible by boat. Improvements on our islands vary from a simple camping structure to sophisticated fish camps with generators to beautiful homes powered by electricity bored under the river to the island. It is a rare find to have an island that has had electric power run to it under the river and also has a property nearby that has a nice home and dock under the same ownership. This 6 acre island shown below is for sale and has a very nice home just across the river that comes with the sale. Excellent opportunity to buy a home and an island together at a very reasonable price. Check with me on this one. I also have photos of the main house. Great buy!
I am always out in my boat exploring our many islands, creek and rivers. I specialize in coastal and waterfront property along the SC coast in the Charleston, Kiawah, Edisto, Beaufort and Hilton Head area. If you are interested in learning more about the waterfront lifestyle and real estate along our coast just give me a call.